The Assumption Parish Family Welcomes You! 




The Mission of the Catholic Community of The Church of the Assumption is to be led by the Word of God, to proclaim God in our words and actions, and to follow the example of Mary our mother in leading all people to God. Come and see!
100th Anniversary of our church t-shirts, crew necks and hooded sweatshirts for sale!
Let's exhibit our spirit for this paramount event in our church's history!
Colors:  Navy, Med. Blue and Dark Gray
                                                  T-Shirts – $10 all sizes
    Crew Ne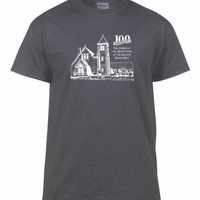 cks – S – XL $20 &  XXL & XXXL $22
    Hooded Sweatshirts S – XL $25  & XXL & XXXL $27
Orders will be taken before and after all Masses on the weekend.  Orders must be made by July 23rd.
To order online go to:  https://st-mary-fundraiser-11992.cheddarup.com/.
We are celebrating our Church's founding this year in its present location for 100 years, its history, and its contribution to our community. Mark your calendar for two events, June 17th, when will be having Eucharistic Adoration after the 8am Mass till Midnight. And also August 13th, where we will begin with 10am Mass, followed by a Marian procession and concluding with a festival on the church grounds.
If you think of any way you can contribute to this memorable event, please call the parish office to let us know, all help and suggestions are welcome!  More information will follow, thank you, and God Bless you!